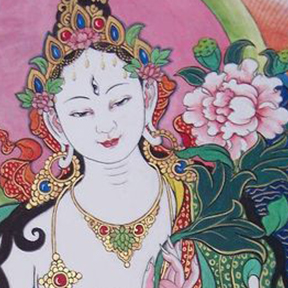 White Tara Practice Session -- by Zoom
with Rachael Timberlake

Join us on the first Sunday of each month for White Tara practice. White Tara is a peaceful feminine Buddha, one of the most important meditation deities common to all Tibetan Buddhist lineages. Her seven eyes witness suffering, and she sends her compassionate energy to heal and soothe.
This practice is open to all, but it is suggested that you already have an established sitting meditation practice for one year or more.
Due to the COVID-19 pandemic and out of an abundance of care and sense of responsibility, we will offer our monthly White Tara practice session remotely via ZOOM.

Click this ZOOM link to join the program:
https://zoom.us/j/496382623 (you can join by computer audio or by phone). If you have a camera on your computer you can also join us visually once you get on the platform.
If only calling in, dial: 1-929-205-6099 and mtg ID: 496 382 623
There is no charge; however, non-members are invited to make a donation of $5-$10 to support the center in offering this practice. Donations can be mailed to us at Montpelier Shambhala Center, 5 State Street, 2nd floor, Montpelier, VT 05602.