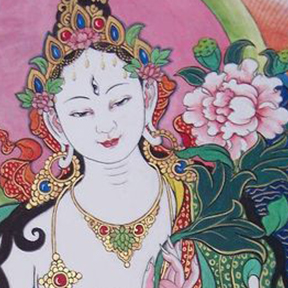 White Tara Practice Session
with Rachael Timberlake

Join us on the first Sunday of each month for White Tara practice. White Tara is a peaceful feminine Buddha, one of the most important meditation deities common to all Tibetan Buddhist lineages. Her seven eyes witness suffering, and she sends her compassionate energy to heal and soothe.
This practice is open to all, but it is suggested that you already have an established sitting meditation practice for one year or more.
There is no charge; however, non-members are invited to make a donation of $5-$10 to support the center in offering this practice.